The Paintball Day at Delta Force Woodhill
you can be guaranteed that your paintball day at Delta Force Paintball will leave you with memories that will last a lifetime! When you arrive, friendly staff will check you and your group in. After we receive your registration forms you will be issued with the essential items needed, including full-head protection goggles, full-length combat suit and custom-designed body armour. Don't worry, the all important paintball marker (gun) will land in your hot little hands soon enough.
As you claim a spot in the base camp, your transformation from Homer Simpson to James Bond begins. Lockers are available to store any personal items, and our onsite shop is available for you to stock up on any food, drink and paintball items you may need.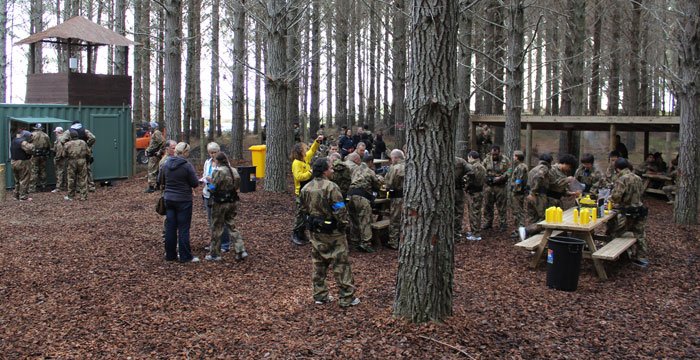 Before hitting the game zones, every player must listen to the essential health and safety speech. This important briefing will detail the rules of the day and teach you how to use your paintball weapon of choice.
At Woodhill we issue our paintball warriors with either the reliable Inferno semi-auto paintball marker (unique in New Zealand), or for those wishing an even more realistic experience, there is the M16 semi-auto replica of the world's most famous assault rifle. Ask our staff about this upgrade when you arrive if you are interested. This all happens once you have been briefed and then you and your team of now highly skilled combatants will then file through the gun zone where you collect your marker.
You can now get your James Bond on in our practice range. Becoming one with your weapon may well prove to be the difference of eliminating your enemy, or being eliminated yourself! Once all players have their goggles secured and their aim steady…
The day of paintball begins!
Throughout your day of paintball action you will experience around 12-14 movie-set scenarios that will thrill and test your league of paintball warriors. Strategy is key to winning some of these battles, so make sure you think smart and act quick!
At approximately 1:00 pm there will be a lunch break. Even the strongest soldier gets hungry. Vegetarian options are available for purchase along with pizza. When you arrive at the centre you can order pizza, that will delivered at lunch time. Our onsite shop also sells drinks and other snacks. Alternatively, you are more than welcome to bring along your own lunch, drinks (non-alcoholic) and snacks. Enjoy the covered and open seating in the base camp picnic area to strategise and discuss your game play for the upcoming games.
When the paint has stopped flying, everyone will return to the base camp to hand in their paintball equipment. Here you will all transform from James Bond back into Homer Simpson. The paintball day is over. Players can expect to leave Delta Force Woodhill at approximately 4:00pm. If your group is limited by time constraints, then an alternate departure time can be organised.
Hopefully we'll see you soon to play paintball at Delta Force Paintball Woodhill. You are guaranteed the best paintball experience in New Zealand when you book with us!